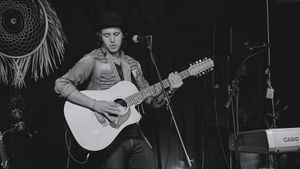 Bio
Hailing from Buenos Aires, Jere Sosa arrived in WA back in 2014 with a guitar and a head full of rich musical influences. His approach is founded upon the melodic songwriting of The Beatles and the guitar playing finesse of Carlos Santana, with punk, jazz and Latin feels within the living-breathing mix. Sosa performs with his band but retains a solid and continuing existence busking as a soloist, utilising a loop station that he adopted upon a trip to New Zealand some six years ago and taking songs to new heights even on his own. 
Sosa's debut album, Coming back home in two footsteps, was recorded by Daniel Brown at Decibel Audio Productions and mastered at Poons Head with Rob Grant. The album features A Taste Of Honey, which won the 'World' category at the WAM Song Of The Year Awards in mid-2017. The album itself offers a diversity of Sosa's musical spirit – many styles, many places, many sounds to revel in. 
And many good times indeed.
Reviews
"

The World Award to the Fremantle-based Jere Sosa for the very chilled, flamenco-infused Taste of Honey."
— The Music.com.au
"

Anyone who has enjoyed the sunset beach markets in South Fremantle will be familiar with the sounds of Jere Sosa. If you haven't well paint you a picture real quick - you're sitting on a picnic rug at South Beach, enjoying a delicious gourmet food-truck dinner, sipping on a glass of wine and watching the sunset - all whilst relishing in the sounds of the local live musician, who is playing chilled-out acoustic folk tunes that are making you so darn relaxed and happy you might just have to call in sick on Monday. That's Jere."
"

There's nobody currently making the rounds quite like Jere Sosa. Hailing from Buenos Aires, and now residing in Fremantle, Sosa's music is a rich tapestry of sounds. He weaves together a variety of genres to craft a sound uniquely his own. On his latest single If Only Love, Sosa presents himself as one of the most unique and exciting voices in Australian music. If you're not already paying attention to this artist, it's definitely time you started. On his latest single If Only Love, Fremantle-based artist Jere Sosa weaves together a rich tapestry of sounds that will envelop you wholly. On If Only Love, Sosa glides through a surreal concoction of folk, flamenco, indie-rock, pop, and psychedelia to craft something entirely unique. He begins the track with textured guitar lines and airy, haunting vocals, before building into bright vocal hooks and woozy full-band instrumentation. The track features on Sosa's The Skin or the Blade EP, and perpetuates his refusal to be categorised. His music feels simultaneously adventurous and familiar. It doesn't lend too much to other artists; it seems to exist in a league of its own."